Gorgol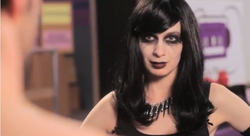 Also known as
Master of Metal
Family members
Indie
(cousin) Mr. Indie (Uncle)
Gorgol (dubbed the "Master of Metal" by Metal) is a gothic Norweigan black-metal phenomon and Indie's cousin. A popular artist even in the US, Gorgol's album sold over 1,000 copies and made a huge influence on MyMusic during her visit, as she got along well with all the co-workers.
Background
Edit
Indie explains Gorgol is another branch of the "royal-hipster bloodline" extending in his family tree, first meeting her at the age of ten while visiting Norway and claims she was "super-nice." Besides this, very little information has been provided about Gorgol's history or stardom, as it has not been confirmed she will appear on any other episodes.
Biography
Edit
Season One
Edit
While touring the states Gorgol visited her big cousin at MyMusic, much to Indie's excitement. Shortly after her arrival at the company she called Intern 2 a "normal-looking man" and Scene a "poser", and then embraced her cousin. The cousins began to catch up in Indie's office, where Gorgol was offered to eat Intern 2 if she pleased, hinting she is cannibalistic. Indie then showed Gorgol the rest of the co-workers, whom got along with her fine, but continued to ignore Metal and his pleas for an autograph. As she prepared to leave, Metal, in a rage of not being noticed at all by anyone at MyMusic, completely stripped himself and demanded Gorgol's autograph. Gorgol, who found Metal's undressing hilarious, literally carved her name into his chest, giving him a permanent autograph (and in turn a scar for life), however Metal seemed perfectly happy after this. (Invisible, Ep.3)
Gorgol is played by actress Felicia Day, star of The Guild and her own YouTube channel, Geek and Saundry.
She describes herself as "progressive" and hands Idol a black rose after calling her Gorgol's "Sweet angel of death".