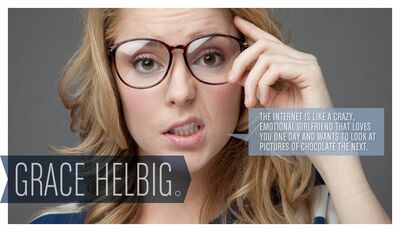 Grace Helbig (born September 27, 1985) is an American actress and YouTuber who plays Idol on MyMusic. She is notably famous for her previous YouTube channel, Dailygrace, where she posted a video almost every day untill the beginning of 2014 when she left MyDamnChannel. She now owns a new channel, ItsGrace, which runs in a similar format to Dailygrace. She is also a occasional correspondant on G4's Attack of the Show!. She was inspired by actress Betty White to persue a comedy and acting career.
Notable Appearances
Edit
DailyGrace as herself
ItsGrace as herself
Attack of the Show! as herself
Late Show with David Letterman as an unnamed extra
Michael and Michael Have Issues as Anna
And many more!