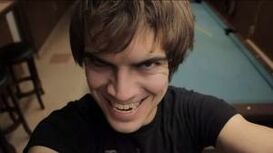 Jack Douglass (born June 30, 1988) is an American actor, singer, and famous YouTuber who plays Intern 2 on MyMusic. He is best known for his YouTube videos under the name of "jacksfilms", where he makes sketches, songs, and parodies. He also films a weekly webshow called "Your Grammar Sucks" where he makes fun of poorly written YouTube and Facebook comments. Jack is also good friends with fellow YouTuber Tobuscus (Toby Turner, who plays Satan on MyMusic).
Notable Appearances
Edit
Himself in Jacksfilms (2006-present)
Intern 2/ Flowchart on MyMusic (2012-current)
AND MANY MORE!