Loco Uno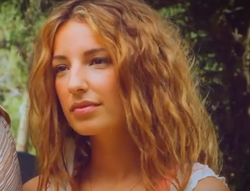 Loco Uno, (played by Vanessa Lengies) appeared in Episode #28 (Return of the Hipster) when Indie announced he had brought back a girlfriend. She then proceeded in the following episodes to become the extreme dictator of the MyMusic company and promptly fired 4 members of the staff, replacing them with their Hipster Counterparts. At some point during her stay, she gained 50% of the control of the company However, she was actually a poser, plotting to drive My Music into bankruptcy and force Indie into selling it to Chris Daughtry. However, her plan unravelled and ultimately failed when she quoted a Daughtry quote, and Scene, who has been thrown into the rat basement earlier, gives more evidence of her plot. She was then turned into a rat by Indie and the Rat Protector took her away.
Loco Uno is most likely a parody of Yoko Ono who presumably caused The Beatles to split
Vanessa Lengies is famous for her role as Sugar on Glee
Loco Uno's name translates to "Crazy one" in Spanish.
Loco Uno has a maniacal laugh which is how she actually laughs.