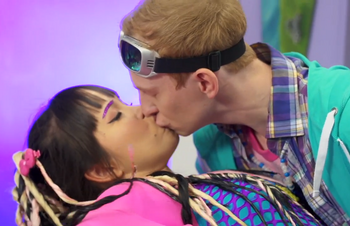 Techstep is the romantic/friendship pairing of
Techno and Dubstep
. This is a universally popular ship in MyMusic fandom and has strong presence and evidence in canon whether it be friendship or a romantic relationship.
Techno and Dubstep have the closest relationship on the show, though the exact nature of their relationship is unknown. Most of the time, they are seen together, and have a hard time being seperated from each other, as shown in episodes 26, 27 and 28.
In episode 3 of The Mosh, Techno says that while she and Dubstep aren't dating, they do spend all day and night together, and sometimes even cuddle on a pile of beanbags (Though she insists that it's totally platonic).
Also, on Techno and Dubstep's MyMusic blog page it says: "Dubstep and I are inseparable like the rhythm to our music!"
In Divorce?, Scene and Straight Edge were having relationship problems. So, Scene came to Techno and Dubstep. As she asked, "...Maybe I can ask you some dating advice?", Techno said "Of course Scene! But why are you asking... Us, about relationship advice?". Scene had this idea that the two are dating (Don't we all?), and Techno asks that who said they were dating. Like the whole Techstep fandom, Scene says, "Aren't you..?" Techno denies it and laughs with Dubstep, "People would have to be crazy to think we're dating." Anyways, the most important of all, Dubstep says something that makes Techno laugh, guessing it's sweet of something... Techno then says, "Dubstep, I love you sooo much." Annnnd they were like touching each others face, clothes or what. And! Techno removes he "L" cuff (Love in PLUR) and lays in Dubstep's arms, like couples...
On the Season 2 finale, "THE WEDDING & THE BABY!", they kiss in response to Flowchart and Scene's kiss to see if a "spark" is felt. Despite a very long and romantic kiss and an apparently blissful moment afterwords, both agree that nothing romantic was felt.
Fanfictions
Edit
PIcture Gallery
Edit
Techstep Moments
Edit
Season OneEdit
Techno and Dubstep's reunion where they share a hug, a dance, and a kiss on the head!
Season TwoEdit
After seeing Scene and Flowchart kissing, Techno and Dubstep try kissing each other to 'see if there's a spark'. However, they both say that they didn't feel anything.
External Links
Edit
The Tecstep tag on tumblr: http://www.tumblr.com/tagged/techstep (it's mostly music.)