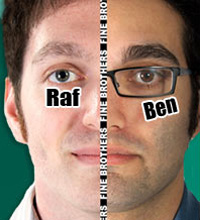 The Fine Brothers
are an web-based comedy duo located in Los Angeles and are the creators of the
MyMusic sitcom
.
Former New York Orthodox Jews and sons of a Rabbi; Rafi and Benny Fine are the award-winning members of the web-based comedy duo The Fine Brothers (sometimes known as TheFineBros). They have received a major attention after their reviews on major magazines including NY Times, Time and the Huffington Post, and have been popular ever since.[1]
Their shows
Edit
Their 'React' shows
Edit
Their parody shows
Edit
LOST: What Will Happen Next?: The Fine Brothers' parody of the popular TV show Lost, with themes of popular film series and TV shows. The web-show features dolls, as in other of The Fine Brothers' parody shows.
Harry Potter Deleted Scenes: is a fan-fic-style 3-episode show which was created as a show for Harry Potter-fans trying to wait for the upcoming Harry Potter film.
Their other shows
Edit
References
Edit